Dr. Berg's KETO SHAKE (Meal Replacement Shake) with MCTs*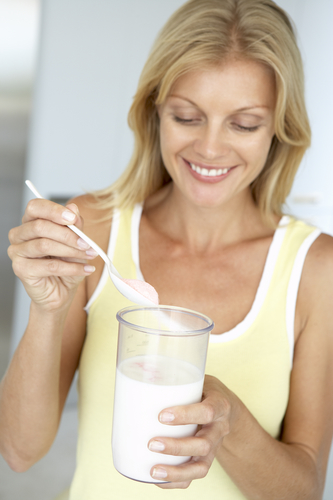 Enhance Fat Burning
Enhance Fat Burning with MCTs
Delicious Creamy Meal Replacement Shake!
ZERO Sugars!
Plant Based Organic Protein
Delicious Creamy Chocolate Brownie Flavor, 11 Grams of Protein, 4 Grams of MCT, 1.55 Pounds.
Mid Adult Woman Holding Dietary Supplements
Dr. Berg created this amazing fat burning meal replacement shake to combine healthy with delicious. The ultimate fat burning shake would have moderate protein, higher amounts of healthy fats and no sugar.
It would provide an amazing texture without the gritty or grainy feeling on your taste buds. It would not give any after taste, nor would it create bloating. The MCTs (medium chain triglycerides) are sourced from coconut oil and the BCAA (branched chain amino acids) are sourced from organic pea protein.
ON-THE-GO NUTRITION: 11 grams of clean organic plant protein and 4 grams of MCTs (from coconut oil) to keep you satisfied!
WORKOUT RECOVERY: Help build lean muscle and boost energy with this power-packed meal replacement and BCAAs!
DELICIOUS: This creamy chocolate brownie shake will be one of the meals or meal enhancements you look forward to. No after taste, just delicious!
FAT BURNING: With our added MCTs, more ketones can be burned as fuel enhancing your fat burning potential. This shake was designed for a ketogenic diet!
VEGAN PROTEIN POWDER: Organic pea protein, vegan, dairy free, soy free, whole food protein!
Highlights
Organic Pea Protein Supplying BCAAs
Coconut Oil Powder Supplying MCTs
No Sugar Added
No MSG or Hidden MSG
BENEFITS
Healthy Delicious Meal Replacement Shake
Enhance Fat Burning with MCTs
Aid in Recover with BCAAs
Amazing Smooth & Creamy Chocolate Brownie Flavor
Ideal for a Ketogenic Lifestyle
Includes 1 (1.55lb) Organic Plant Based Protein
Creamy Chocolate Brownie Meal Replacement Shake
Ideal for healthy, on-the-go nourishment for busy professionals, moms, athletes and students
Take as a meal replacement or a healthy delicious desert
11g Organic Plant Based Protein, 5g Organic Fiber, 2g Carbs, 0 Sugars, 80 Calories per Serving
Gluten Free, Vegan, Non-GMO, Soy Free
What are MCTs?
Medium-chain triglycerides (MCTs) are healthy fats that are burned by the body for energy, or 'fuel', instead of being stored as fat.* Our MCTs are sourced from coconut oil. MCTs can turn into ketones, which provide an alternative fuel source for greater fat burning potential.
What are BCAAs?
Branched Chain Amino Acids (BCAAs) refers to three amino acids: Leucine, Isoleucine and Valine. BCAA supplementation, for people low dietary protein intake, can promote muscle protein synthesis and increase muscle growth over time.
This product has a 30 day money back guarantee.
Try any of Dr. Berg's products for 30 days, 100% risk free.
MCVitamins will work with you on an individual-by-individual basis to help you get the results you seek. And don't be surprised if we contact you so we can check up on how you're doing and to see if we can help you to get things moving faster!
STILL HAVE QUESTIONS? EMAIL AND GET YOUR QUESTIONS ANSWERED.
Sign up to receive the MCVitamins Newsletter!
Up-to-date info on the latest health-related news happening in the world
(available in English only)